the Fashioning an Empire: Textiles from Safavid Iran Exhibition opened at the MIAQatar
This captivating exhibition highlights the critical role that silk played during the Safavid period (1501–1736 CE).The exhibition was first displayed at the Smithsonian's National Museum of Asian Art in Washington as part of the QatarUSA2021 Year of Culture.
Iranart:It will be at the Sheikh Saoud Gallery and highlights the significance of silk in the vibrant social, economic and artistic life of the Salavid Empire (1501-1736)
‌Complimenting the exhibition, MIA launched for the first time ever, a narrative podcast series comprising six episodes that reveal the story of the Safavid dynasty's splendour and its silk production through several highlight pieces from the exhibit ‌.
The MIA website wrote about this exhibition:" Silk. Its complex manufacturing process and supple feel against the skin make it a valuable and highly prized luxury good. Since the 6th century CE, Iran has produced high quality silk, widely appreciated and traded long distances. It is, however, during the reign of Iran's most important ruler in modern history, Shah 'Abbas I the Great (r. 1588-1629 CE), that silk became a state-controlled industry – it boosted the country's economy by supplying both an eager internal demand and feeding a vigorous export market spanning from England to Thailand. Shah 'Abbas was the fifth shah of the Safavid dynasty (1501-1722 CE). Under the Safavids, Iran experienced a period of renewed political strength and artistic creativity, geographical borders were consolidated and most of the population adopted Shi'a Islam, which became the official state religion of the country. The rise of the silk economy during Shah 'Abbas' reign had effects beyond the markets, inspiring artistic development and fostering cultural exchange.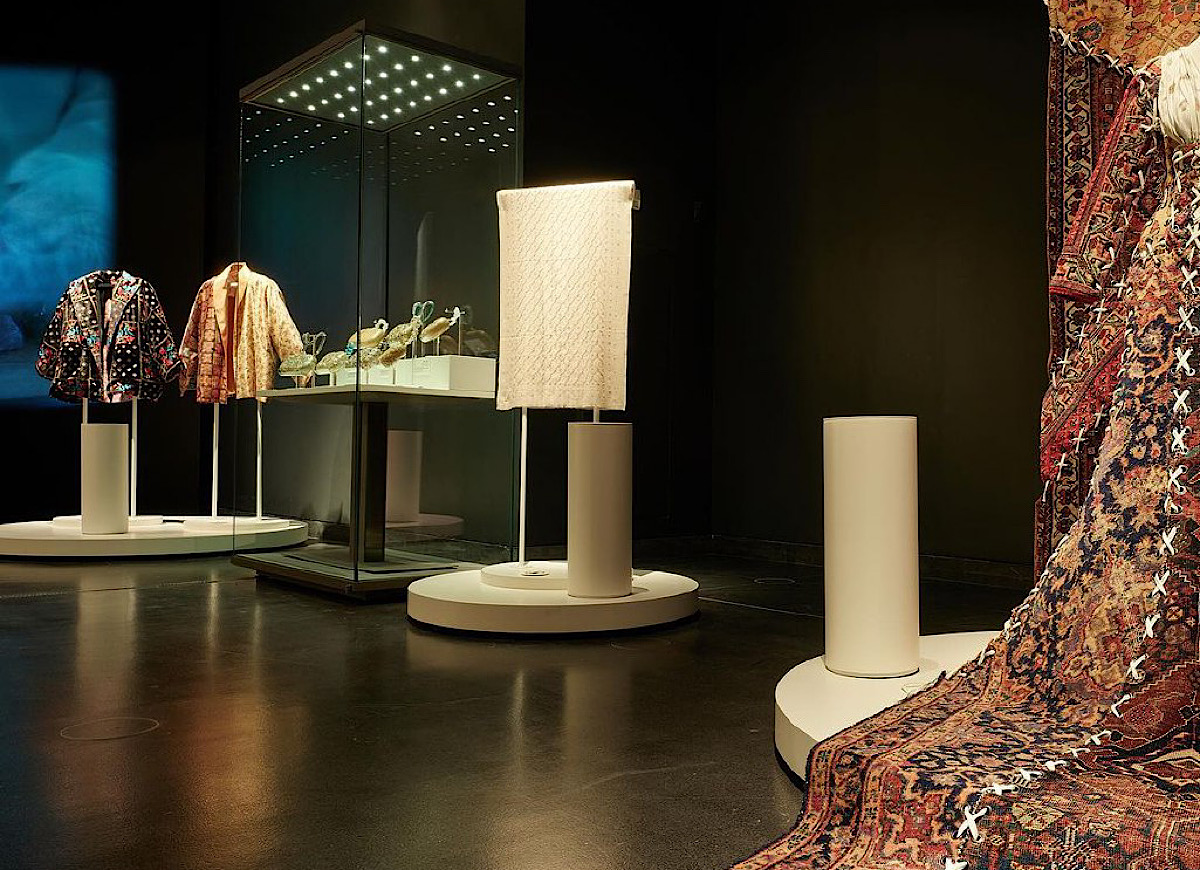 Born out of a collaboration with the National Museum of Asian Art in Washington, DC (USA), this exhibition explores the development of the silk industry under Shah 'Abbas. It presents the capital city of Isfahan as the heart of the Safavid state and showcases fashion styles during a time when Iran established itself as a major player in the global arena.
The exhibition ends with a series of contemporary commissions by Qatar-based designers in response to the splendid historic textiles on display. Their work illustrates the powerful creativity that Safavid silks still inspire in today's creative minds."